Families on picnic, couples on date, bikers and walkers on their track.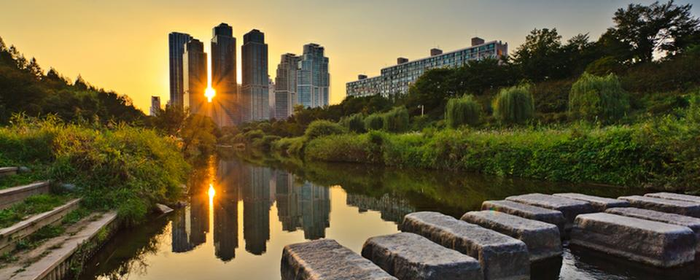 Yangjaecheon Stream

| | |
| --- | --- |
| Location | Apgujeong-ro South 35-gil, Seongreung-ro West 14-gil |
| Direction | Line 3 Dogok Station and Hagyeoul Station Bundang Line Gaepo-dong Station and Daemosan Station |
| Bus Line | 4312, 4426, 6411, 4511, 3412, 609, 472, 6411, 141, 405 |
| Tel | +82-2-2104-2180 |
If you're looking for a refreshing walk, Yangjaecheon (Stream) is the place to go. The beautiful walkways are teeming with nature and wildlife, with 300 different kinds of animals and plants.
Running down from Gwanaksan (Mountain) and Cheongyesan (Mountain), flows through Gwacheon toward Gangnam. When the Gangnam area was being developed, sewage would flow into the river which caused it to be called 'Garbage Stream'. Due to such sickening odor, it was nearly impossible to pass through the area. However, starting in 1995, with the support of local residents and municipal offices, a cleanup effort to revive Yangjae Stream has brought it back to its original beauty. Fish, cranes, ducks and other water fowls, as well as 300 different kinds of amphibian, mammalian and reptilian creatures have returned, which has astonished people.
The place is very popular with visitors and also a great destination throughout all four seasons. It is especially popular among couples who would visit there for romantic dates in the summer. Plus, since it is close to Dogok-dong, people can have a chance to grab a meal or teatime at nearby cafes there after enjoying a walk around Yangjae Stream. You can also come here for the beautiful view of the city's night skyline. With the tranquil Yangjaecheon stream reflecting Gangnam's city lights, you'll see why this is considered one of Seoul's best night view.
If your visit to Gangnam falls in August, it is highly recommended to check this year's Yangjaecheon Harmony, an annual musical concert held on the shore of Yangjaecheon. This free-of-charge concert will give you an unexpected pleasure in the calm of a summer evening.