History and future of Taekwondo – World Taekwondo Headquaters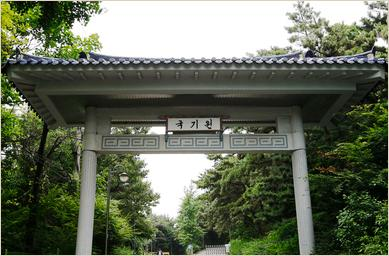 Kukkiwon – World Taekwondo Headquarters

| | |
| --- | --- |
| Location | 32, Teheran-ro 7-gil, Gangnam-gu, Seoul, Korea |
| Direction | Line 2 Gangnam Station Exit 12 and Line 9 Shinnonhyeon Station Exit 5 |
| Tel | +82-2-567-1058 |
| Website | http://www.kukkiwon.or.kr/ Site |
Must-visit spot for Taekwondo practitioners to get to know more about Taekwondo. Regular Taekwondo Performance is presented for international visitors.
Kukkiwon, also known as World Taekwondo Headquarters and home of the World Taekwondo Academy, is based at Yeoksam-dong in Gangnam-gu district. In contrast to the bustling energy in Gangnam Station, Kukkiwon is a place where the fresh air and the scent of trees linger everywhere. Take a trip to savor the beautiful nature and learn more about the history of Taekwondo.
Kukkiwon has opened in 1991 and kept the history of the martial art, Taekwondo. More than 60,000 people have made pilgrimage here to see roughly 2,600 items of historical significance to Taekwondo on exhibit. Assimilating the history and culture of Taekwondo from these items helps to expand the understanding of the evolution of this martial art.
Kukkiwon leads the Taekwondo Association comprised of 162 nations around the world. The site proudly presents a gymnasium that can accommodate around 30,000 people, and holds globally prominent Taekwondo conferences. Kukkiwon manages many of great duties such as testing for raking of roughly 8.5 million Taekwondo practitioners, the sending of delegates for exhibitions, international exchanges, public relations regarding the martial art, and applications of Taekwondo groups.
Regular Taekwondo Performance presented by Kukkiwon Demostration Team is another good reason to visit Kkukiwon. Visitors can also learn the history of Taekwondo, including Olympic medals.
"The Korea Spirit" Kukkiwon Taekwondo Performance
Introduction: Visitors may watch impressive skills of taekwondo, one of unique and representative acts that showcases the gist of Korean tourism. Besides, Kukkiwon has also plans to introduce a variety of fun and memorable taekwondo-related programs to both international visitors and children in Korea, in hope to increase awareness of Korea's indigenous cultural property to the world.
Period: 09.01.2018 ~ 12.31.2018
Performance Times: (Every Saturday and Sunday 20:00)