Calm Moments in the middle of Gangnam
Bongeunsa

| | |
| --- | --- |
| Location | 531 Bongeunsa-ro, Gangnam-Gu, Seoul, Korea |
| Direction | Line 2 Samseong Station Exit 6, 100m towards Assem Tower Line 7 Cheongdam Station Exit 2, 150m towards Gyeonggi High School |
| Tel | +82-2-3218-4800 |
| Website | |
Looking for a place to relax and heal? Visit Bongeunsa Temple in the heart of Gangnam City!
In a city block surrounded by the COEX and other tall buildings in Samseong-dong, Bongeunsa is a very peculiar site. It seems dubious to have a temple in the very midst of Gangnam, but this Buddhist temple has existed for countless years ever since it was built in 794 during Silla Dynasty, boasting the history of more than 1,200 years.
Erected in 1986 and completed ten years later, the giant statue of Buddha is one of the symbols of Bongeunsa Temple. Reaching 23 meters in height, the massive statue seems to look over all the inhabitants of the city.
With more than 10,000 devout believers and hundreds of foreign tourists visiting daily, Bongeunsa Temple runs "Temple Life" and "Temple Stay" programs for ordinary people to experience the life in the temple. Temple Life is a program that allows visitors a chance to stay and experience everyday life at the temple while teaching them traditional Korean Buddhist culture and mental training as well as lantern-making and Buddhist worship rites. On the fourth Saturday of every month, the Temple Stay program is carried out in English for the convenience of foreign visitors. It is the place to experience Eastern culture and take photos of beautiful wall paintings that will last a lifetime.
Enjoy your rest and relaxation in the heart of the bustling city! Say goodbye to mental fatigue and stress with a brisk walk and calm meditating session in Bongeunsa Temple!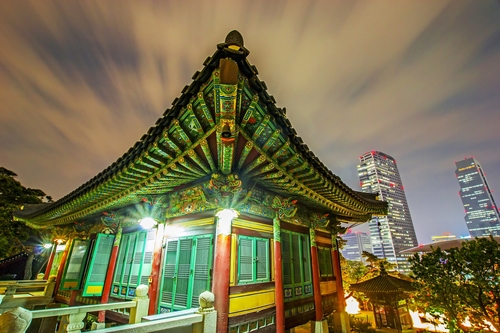 Bongeunsa Temple
Bongeunsa Buddhist Temple
Bongeunsa Buddhist Temple, one of the greatest millennial temples where not only the aspiration of the Great Buddhist monk Bowoo who revived the Buddhism during the Joseon Dynasty of "Buddhism Oppression and Confucianism Veneration" period but also the spirit of the Great monks Seosan and Samyung who saved Joseon Dynasty, is now making the new history on Korean Buddhism owing to its practice and propagation- centered temple management system.
Bongeunsa Temple Stay
What is Templestay?
Koreans have been practicing with Buddhism for more than 1,700 years. The Bongeunsa Templestay is a program in which you can experience Buddhist tradition through the monastic daily life and purify your mind and body. You can put your busy mind down and take a deep breath to look inside of yourself in Bongeunsa and then you can meet your true nature.